Drinking Horns For Sale
Gifts & Collectibles
International Shipping
Superior Quality
From ancient mead halls to modern tables, our collection boasts only the finest, highly-rated drinking horns. Experience tradition & quality, delivered directly to your doorstep.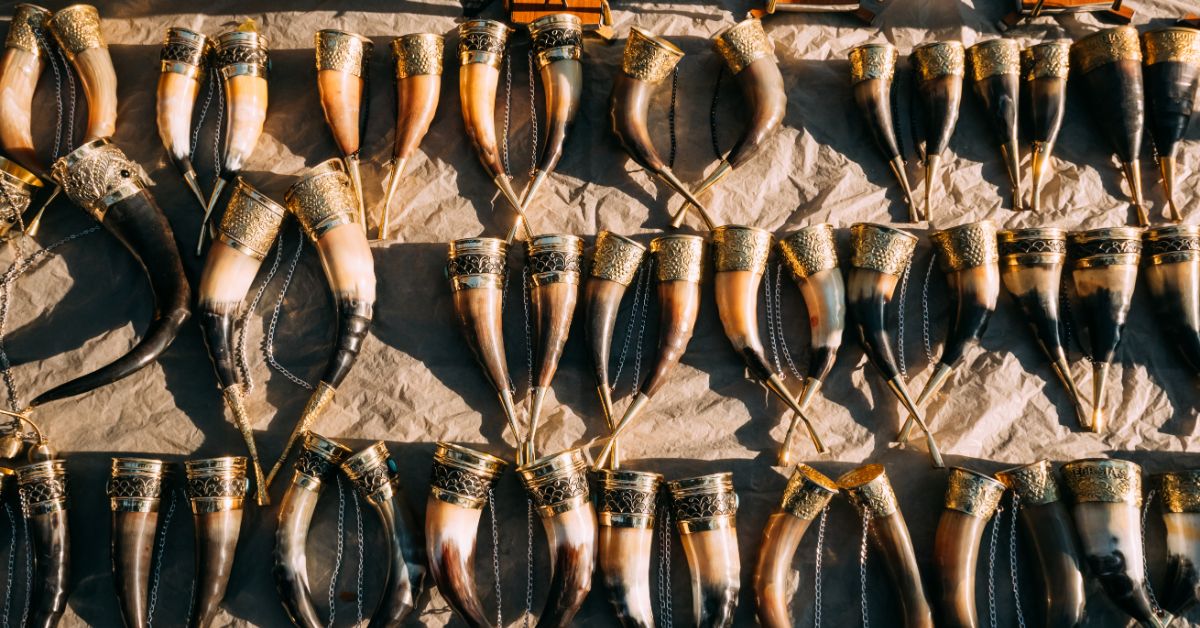 Hottest Products Trending Now
Unearth The Best Drinking Horns
Welcome to the premier destination for the finest drinking horns available online. We are dedicated to providing enthusiasts, collectors, and casual buyers with unique, handcrafted products that embody tradition and authenticity.
Every drinking horn on our website goes through a rigorous quality check. Sourced from the best materials, these horns promise both durability and a classic aesthetic appeal.
Our commitment is not only to offer unique products but also to provide you with an enriching experience. So, dive in and discover the rich history, vast variety, and educate yourself on how to care for your new purchase.
Our Wide Range of Products
Browse our site to find a wide range of quality drinking horns and associated products fit for history enthusiasts, antique collectors and modern Viking fans.
More Than Just A Drinking Vessel
Drinking horns are not just cup to hold your drink; they are historial hand-crafted pieces of art. Tracing their origins back to classical antiquity, they were status symbols, ritual objects, and everyday utensils.
In modern times, a drinking horn is the perfect item to take to a Medieval festival. You could also get a matching pair and have your own Viking party, toasting and spilling your ale all over the place.
Not a fan of the fact that traditional ox horn tankards are hand-cut from a living animal? You'll be pleased to know we have authentic-looking horns made from other materials including glass or plastic.
For those who are here for the real thing, you will be glad to know that all horns are ethically sourced. Also, as authentic horn products come from a living animal, each one is unique in its colors, textures, and patterns.
Choose Your Preferred Style
Our collection of drinking horns is as diverse as it is vast. View our various styles available that cater to every kind of drinking horn enthusiast out there.
Unleash Your Hidden Viking
There is something very special that happens when you grasp a traditional drinking horn in your own hand. Words cannot describe the awakening of something inside you that takes place.
It is almost like a hidden Viking is shaken back into existence from within your bloodline passed down from your ancestors. There is only one way for you to experience this for yourself.
Order your own, fill it up, and enjoy drinking mead, beer, or your favorite tasty beverage in style. We offer various horn sizes and styles that have high star ratings, some with free shipping and prices to suit all budgets.
Viking drinking horns also make a perfect gift for Game of Thrones fans, those who love the Viking Age or Medieval times, or your friend who has it all. Plus, they make great wedding, birthday and other celebratory gifts.
Learn More About Drinking Horns
Explore the rich history or drinking horns with our large library of artcles. From historical facts and mythological legends to DIY projects and more.
Discover expert tips on cleaning, storing, & preserving drinking horns. Maximize longevity & enjoyment with our in-depth care guide for horn enthusiasts.